May8, 2014
When I say "Baltimore," you say "Album!" Ready?!
Baltimore!
Album!
Baltimore!
Album!
And the crowds go wild!
Ok, now that we're all pumped up, we can get started. It's 2014, and this year marks the 200th Anniversary of the Battle of Baltimore and the writing of the Star Spangled Banner. What does this have to do with quilting, you ask? Well, the city of Baltimore will always have the quilty-association with Baltimore Album Quilts. The original Baltimore Album Quilts were made in a very small time period (approximately 1846-1852), and are characterized with very heavy ornate applique. There's an ongoing debate about  if there was a single designer and if the blocks were made as kits. That's not the point. The point is that Baltimore album quilts are pretty. They are full of pretty. Pretty flowers, pretty birds, pretty exotic animals, pretty little lyres (HA!). They are spectacular examples of craftsmanship and design and are studied and emulated today all over the world.
The Baltimore Album Quilt style holds a special place in the Eye Candy Quilters' hearts. Several years ago, we moved from outside of Baltimore to the great state of Nebraska. It was scary, yes, but now we are proud to call ourselves Midwesterners. From our view on 16th Street, we may observe a little bit of a culture shift, but the love of quilting is strong everywhere!
So in honor of our previous stomping grounds and the Star-Spangled Banner's anniversary, we've decided to make 16th and Baltimore! 16th and Baltimore is a modern riff on the traditional Baltimore Album style of quilt. There will be 16 blocks, each containing heavy floral applique, but also a little bit of more modern diagonal piecing in the background.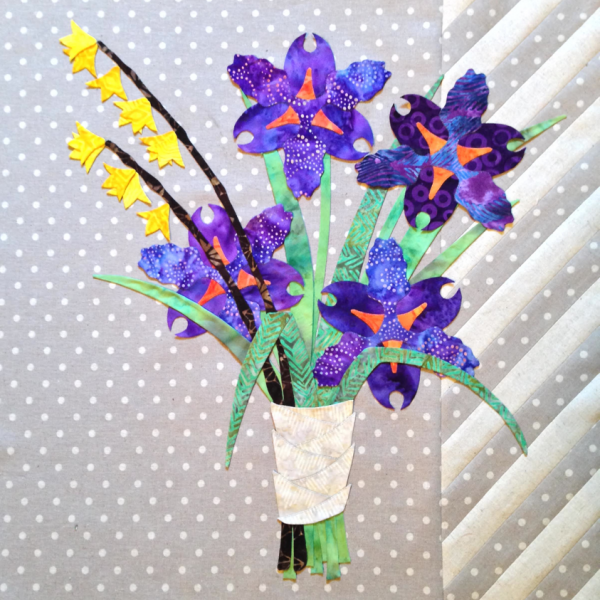 To make it even easier, we've got the patterns available for instant download via Etsy and Craftsy. Each new block will become available on the 1st and the 16th of each month. Each block pattern contains full-size applique, so yay! No running out to have it enlarged! You can print it from your home computer. Easy peasy.
The quilt will finish 97″ x 97″, including sashing and a pieced border. I know, it's a big one. Finishing instructions will be available after all 16 blocks are published.
And because we luuurve show-and-tell, we've hatched a scheme for everyone: if you finish your block, post it on social media (Instagram, Twitter) with #16thandbaltimore and @eyecandyquilts, and we'll give you a code for 20% off the cost of your next block! So if you keep up, and we know you will, you'll save 20% off your pattern! Cool, right?
One more time now—
Baltimore!
Album!
Baltimore!
Album!