January13, 2017
Brenda was inspired by antique cut glass buttons when she chose the color palette for Fierce Kismet. That black background accent fabric has touches of silver. Paired with the pale grey pearlescent Cotton + Steel background, as well as all the vibrant cross-weaves, Fierce Kismet glows.
Though you don't need a ruler to put Fierce Kismet together, Brenda swears by the Deb Tucker Deep V ruler. I use the Tri-Recs when I put it together. Either one is a great tool to have in your arsenal.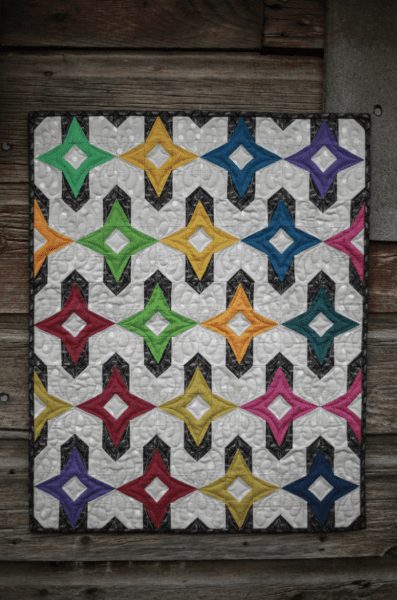 To download the pattern from Etsy, click here.
To download the pattern from Craftsy, click here.
Fun story, we pinned this quilt to the same barn we used for photographing the original Kismet quilt, which led to me and my very brave photographer Cori climbing over boulders to get the picture. Unfortunately, I don't have photographic evidence, what with the climbing and everything. But we're like spider monkeys in pursuit of the perfect picture!