November8, 2018
We're just back from our first market in Houston! And though the 83 degrees and humidity wasn't the most fun, I'm not sure coming home to a forecast of snow was quite what we had in mind…But because I don't want to go outside today, let's start sharing some of our new quilts. First up is Game Changer, which is only right since it missed the spotlight of Quilt Market; I left it under my bed! Whoops.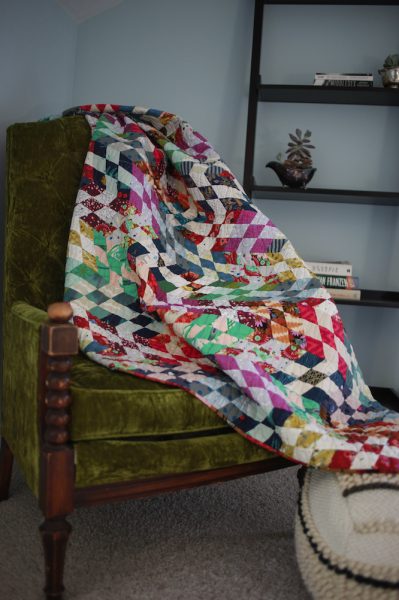 When I was little we went to visit family in Wyoming. While there, a second or third cousin taught me how to play checkers. When the six year old me starting beating the 60 year old gentleman, he quickly changed the rules so he could beat me. What can I say? We're a competitive bunch. In honor of that rule breaking spirit, our Game Changer is a twist, or more of a slant, on a classic checkerboard.
And you might notice our pictures are a little different. This year, I wanted to do some photos in a house. We were lucky to find an AirBnB that had all sorts of nooks and crannies perfect for hanging quilts. We also took it on a field trip to Colorado to take some pictures in the mountains and see the full on wavy goodness.
Game Changer is a nice sized throw at 55″ x 65″.
You can download it from Etsy here.
You can download it from Craftsy here.