March26, 2023
Last fall, I encountered an article floating around the internet about colors disappearing from the world.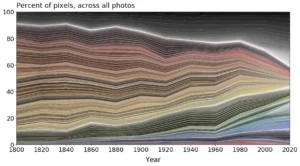 I tracked down the original source of some of the information, the Science Museum Group Collection in the UK did an analysis of its collections to see the changes in color and shape over time. It gave more in depth analysis of why yellow and brown colors were disappearing and why there was an increase of super saturated colors in the 1960s. But the most interesting part to me was the visual representation of the changes in the colors of objects over time.The colors that we see every day are narrowing in scope. The grey, the black, the white are taking over. So what are we to do when we can only buy silver cars and grey couches? Put a quilt on it!
To add more color to your quilting life, let's take an honest look at your fabric stash. You probably have go-to color schemes. You might have a stack of fabric in a favorite color that towers over the rest of your stash! Mine big stack is green, so you're in good company. But what colors is your stash missing? Or maybe you could use your favorite color in a different way? Don't be afraid to break out of your comfort zone with a new color scheme. By exploring different color schemes such as complementary, analogous, or monochromatic you can create an entirely different look for your quilts.
What if you're good with color, but mixing prints and patterns makes you sweat? We know that adding big prints and bold fabrics to your stash of solids fabrics can make a big difference in the overall look of your fabric stash. Baby steps, Lovely Friend, baby steps. A good blender or tonal fabric like our pearlescent Dottir print or a small geometric is a good first step. But be adventurous! Incorporating color and design through prints is a great way to add personality to your fabric stash.
Adding color to your quilts isn't just about the fabrics. Think outside the box when it comes to adding color to your quilts. Using elements such as quilting, thread colors, embellishments, or unusual finishes can add that extra "wow" factor to your quilt. Remember to experiment! Ignore the shoulda-coulda-woulda-quilt-police and have fun with your quilts!
What colors are your go-to's in your fabric stash?