July15, 2020
We're on our second week of Stitchaway Camp and it's time to meet this week's Camp Counselor, Charles Cameron! Charles is a fearless quilter and pattern tester. He even volunteered his keen eye for making new samples for Eye Candy Quilts, but more on that later. Without further ado, let's get chatting.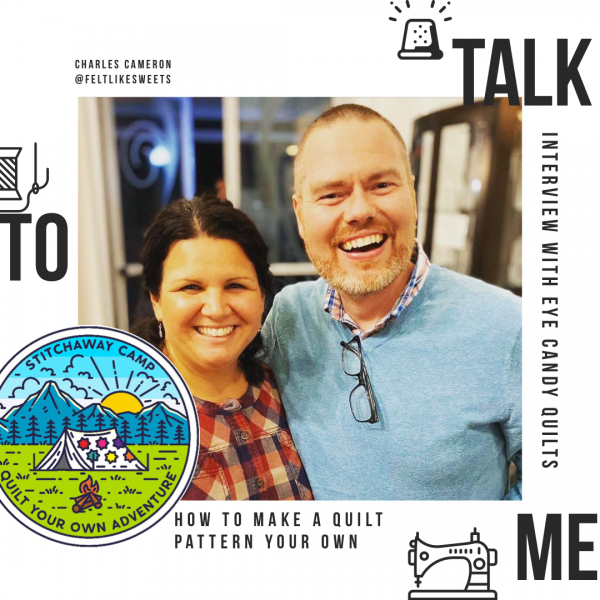 Charles with the amazing points and pretty quilts! Hiii! Thank you for joining us today. Tell us a little about yourself. How did you get started quilting?
Hello, Anneliese and Brenda! So nice to be speaking with you today. I'm so glad that we're finally doing this. We've been talking about doing this for some time. Where to begin… well, let's cover the easy stuff first: I have two little girls: Charlotte and Alice (9 and 7) who are so creative and such inspirations for me. Great little quilting helpers. My wife, Jane, and I just celebrated our 15thwedding anniversary; instead of the cruise to Italy and Greece that we'd planned, we had a big bowl of pasta, and a few baklava in our back yard. Thanks, Corona virus!
Oof! Yeah, my big trip to Europe got derailed, too. But I guess that means more time for stitching at home instead of eating pasta, right? Quilts are just as pretty as pasta.
That's why we're here, right? So, here's my story: I'm an Engineer by training and work for a pharmaceutical company, so lots of left-brain math-y stuff during the day. I've always enjoyed doing artsy, craftsy, creative-y stuff, too. It's a great way to exercise the right side of my brain, ya know? To feel balanced. Play with colors, shapes, textures, patterns. Tell a story. Make something. That's what I like about it.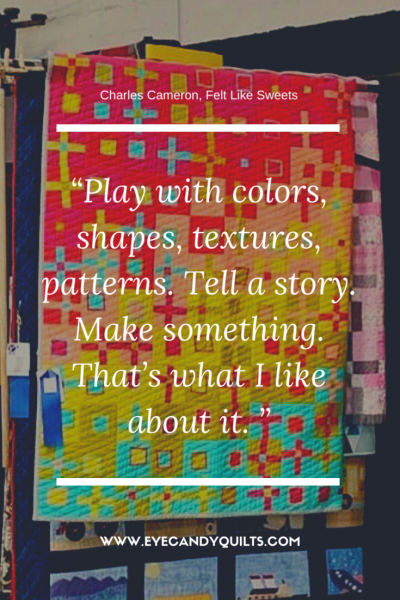 Here's the story of my first quilt: I started not really knowing that I was going to make a quilt, if that makes sense?! I had been following several artists on Instagram, and long-story-short came across this amazing improv quilter: @Pieladyquilts (Check her out! Follow her. She's so inspiring). She has so many lovely quilts, but there was one that kept popping in my feed; I don't think she's titled it, but it's all these wonk-y navy and gray crosses. It's STUNNNING; the crosses just dance across the quilt; they sparkle. So, I decided to see if I could make some of those wonk-y crosses, just for fun, ya know?! I ordered 6 fat quarters of bright Kona solids from an Etsy shop (I didn't know what a fat quarter was at the time either!). And boy did I make a bunch of really ugly crosses! I hadn't done much sewing at all, some had stitching and such, but very little experience with a sewing machine. But I just kept trying to replicate her wonky crosses. I think I ended up with 25 or 30 decent crosses when I ran out of fabric and had to buy another fat quarter bundle. And I just kept making crosses and added some wonk-y boxes, too (inspired by another one of @Pieladyquilts quilts), and after a third order of fat quarters had made enough crosses and boxes for a 50" x 60" quilt. It won 1st prize in the new entrant category of the North Carolina State Fair last year!
That's so exciting! Congratulations! You're always really good at seeing the possibilities in a pattern. What was the first quilt you made different than the pattern?
In truth, I only have a few quilts under my belt, but I think because my first quilt was made without a plan or a pattern, improv-style, using a pattern seems more like a 'suggestion,' a 'recommendation,' a 'starting point' to me. Yeah, I don't follow recipes either. Don't get me wrong, I love a good pattern, and have a library of them. They're great for determining fabric requirements, cutting suggestions, ironing directions, all that. And being fairly new to sewing and quilting, I love them for learning new skills and techniques. To answer your question, though, I made a minor modification to Then Came June's Meadowland quilt pattern, my second quilt. I added small snowball corners to each block, which were not part of the pattern. I had planned the color palette and placement for that quilt beforehand, and while sketching some examples found that I could add even more sparkle and movement to the quilt by inserting these additional corners. I think it worked! Interestingly, I picked the size for the snowballs simply based on how much fabric I had left of the half yard cuts of each color after cutting the pieces that the pattern prescribed. I'm also a big fan of using scraps on the quilt backing, too.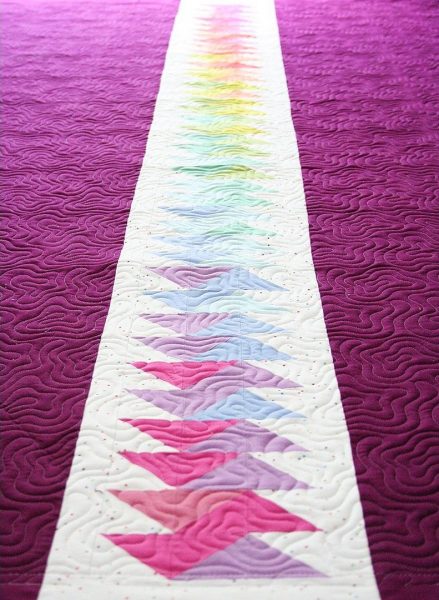 Yes! Back art is one of my favorite things.
Use up all those scraps!
You're an engineer. Do you think that makes you more of a planner? Do you plan out your changes or fly by the seat of your pants?
Yes! You're right. That left side of my brain is really helpful for quilt planning. Aside from my first quilt, I've approached subsequent quilt projects with a well thought through plan, often having made several sketches and revisions along the way. I usually start on the computer and by making drawings of the quilt blocks and layout using PowerPoint. There are many other programs that can be used. I find PowerPoint to be sufficient for me. I can pay around with different color schemes and color placement. Also, if a pattern doesn't come with fabric cutting instructions, or if I'm deviating from them, I also like to map that out on the computer, too. I'll draw out a fat quarter or half yard cut, then place all the shapes that need to be cut from each, and look to minimize waste. Measure twice, cut once, right?
Do you always plan your changes to a pattern? What kinds of things do you take into consideration?
Most often I do. I really enjoy that part of the quilting process. Some like cutting, some piecing, some the quilting, (a few like binding, amiright?). For me, I like the planning, the scheming, the revising, the calculating. Trying to improve upon a design with my own twist. I can spend weeks on a plan before I buy or cut into a piece of fabric. I also really like to make 'rules' about how colors are placed that help create a secondary pattern or flow within the quilts that I've made. You can see this in my Meadowland, for example.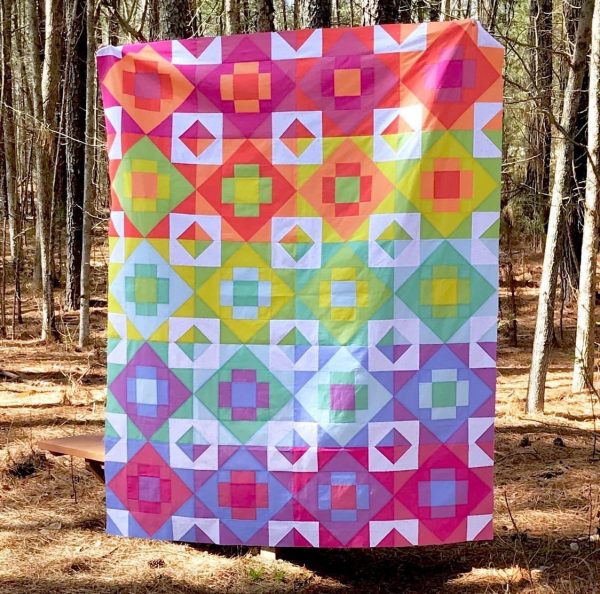 Here are some of the 'rules' that I employed:
Each block has 4 colors; the pattern prescribes this
I chose to confine the same 4 colors in each row of blocks: the color for the large cross in block 1 is the color for the diamond in block 2, then the small cross in block 3 and the square in block 4, same in each row.
Next, I choose to repeat 2 colors from the first row in the next row and add 2 new ones. (see how the light and dark orange are repeated in row 2 and the lime green and yellow are added; yellow and lime green repeated in row 3 and teal and light blue added. – that was on purpose! 😊
I've done similar things in other quilts I've made. See my scrappy Sienna Burst [pattern by Then Came June] where the five center diamond colors (lavender, pink, plum, blue, green) are placed like a sudoku numbers: they don't repeat in a row or a column. Mind blown?! It's like a secret little math equation that I think really makes a quilt sparkle.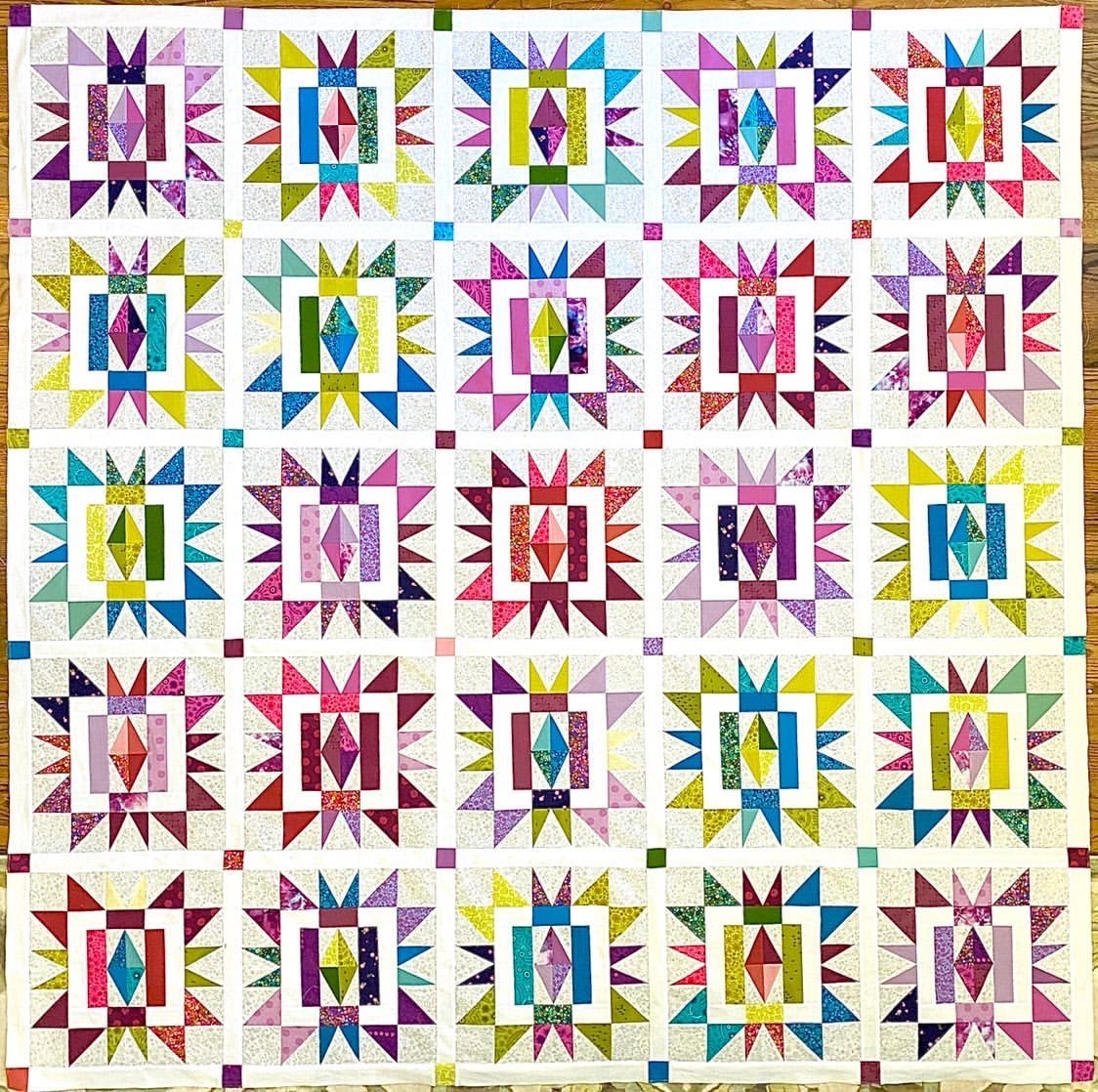 So many gorgeous quilts! Check back tomorrow as we finish up our chat with Charles of @feltlikesweets about making quilt patterns your own.