February23, 2017
Fun story—my dad was a California surfer dude with a van in the 70's, the kind of guy you wouldn't want your daughter to date. He's told me lots of things about his escapades along the Left Coast. And though I've never been to California, Pacific Coast Highway, or PCH for short, is my ode to his adventurous youth.
PCH actually started a couple of years ago. Moda had just introduced their Mochi Linens, and I wanted to make a quilt using them. I'm also a fan of using anything unexpected as a background color, so I scooped up a couple of yards of the army green. I love that yellow, it has a real green-y undertone. In the Crayola 64 box, it would be Spring Green.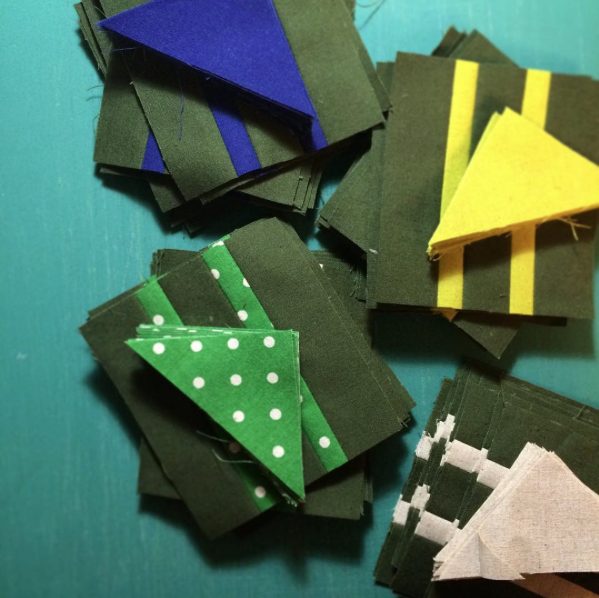 The blocks actually sat around for a couple of years. I tried to submit it to a magazine, it got rejected, and I lost steam/interest. I have tons of UFOs. Someone shared this tip for UFO storage with me; keep your blocks together with pants hangers. Then they won't get wrinkled and you can keep them all together.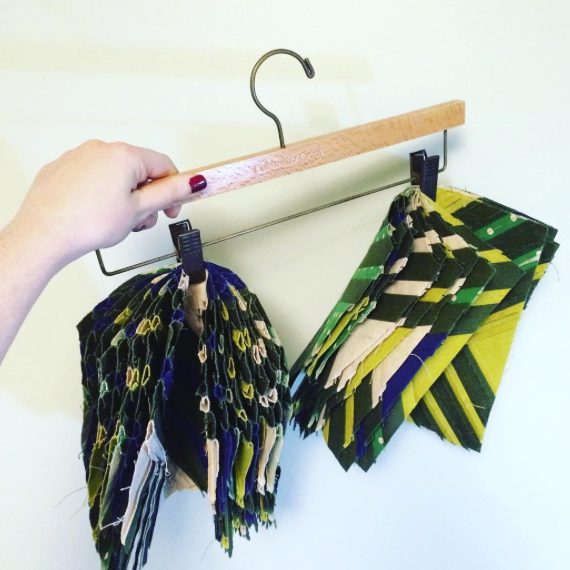 I pulled it out of the closet and tried to lay it all out. Figuring out how I wanted everything to go, how much of a secondary pattern I wanted to create, was probably the hardest part. The rest of it goes together in a snap.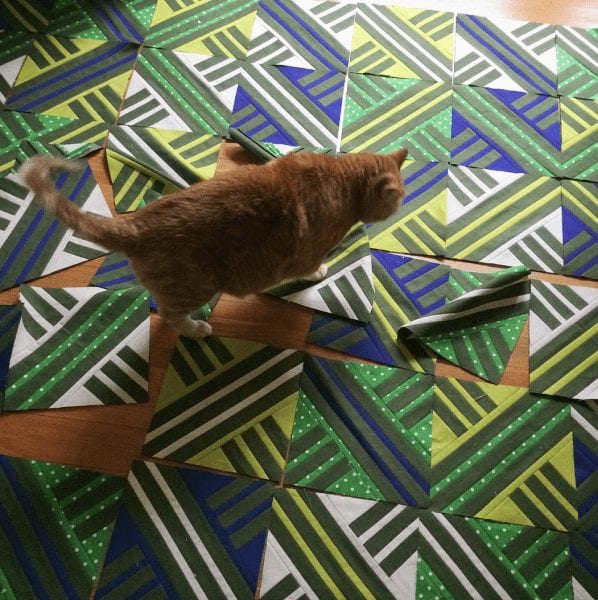 I sent it to Kathleen Riggins for quilting, because she's awesome, and she worked her magic. Click here for her post on this quilt and some great pictures of the quilting.
Before I even finished this quilt, I had the idea to string it from the rafters in a barn. We may not have a coast to take a picture of my Pacific Coast Highway quilt, but by golly we have barns! That also meant that this is one of the few quilts I have that has a sleeve on the back. Really, this picture is all about that bunny backing I got from The Cloth Pocket. I love it!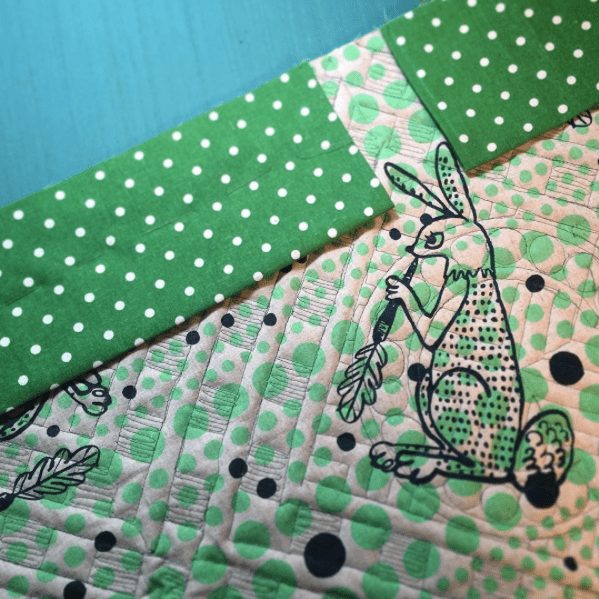 Like I said, I wanted to hang this from a barn. This barn in fact.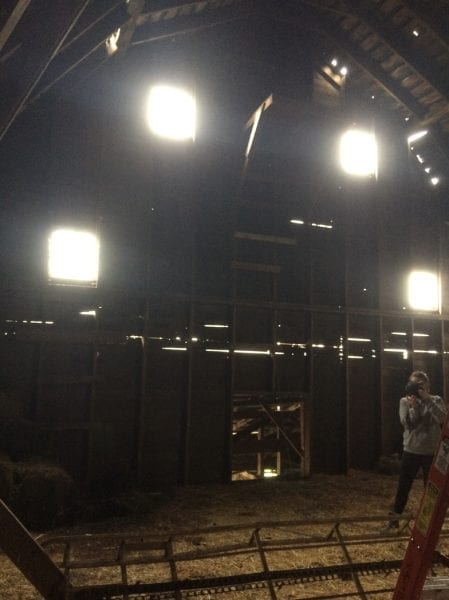 My wonderful photographer Cori has yet to say no to one of my harebrained quilt photo ideas. Thus began our great adventure! I'm not sure how old this barn is, but it's wooden with a stone foundation. The barn door is kinda-sorta rusted shut. The ladder up to the second level goes through a two foot square hole in the ceiling. So Cori with her photo gear on her back and me with the quilt on mine, got through the barn and up the ladder, passing another A-frame ladder between the two of us. We strung that quilt up, and wouldn't you know it but the light wasn't the best!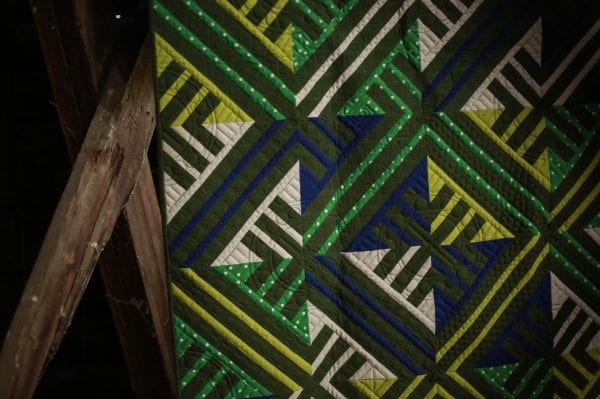 I climbed hay bales. Because darn it, we were going get that picture.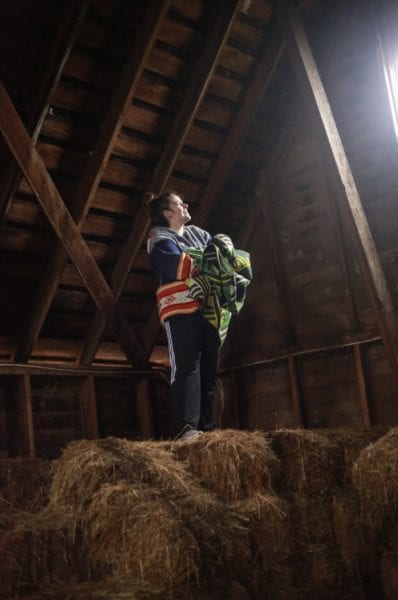 And that was a big nope.
So much for my great plan. Thankfully, Cori knows many good photo locations. Cue the final, perfect picture.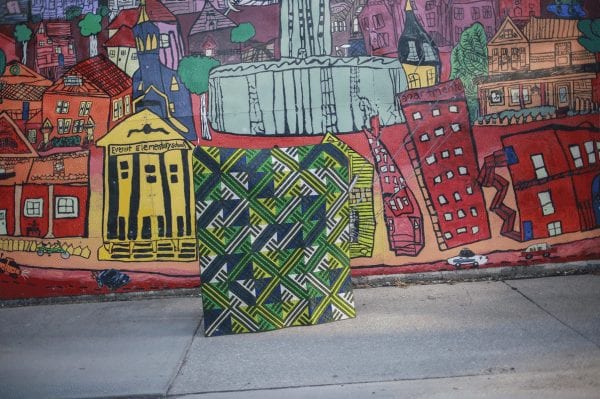 Ta daaaa! We still have no coast, but Lincoln has plenty of murals.
To get your copy of Pacific Coast Highway from Etsy, click here.
To download your copy of Pacific Coast Highway from Craftsy, click here.
And I'm super excited that this quilt is at QuitCon 2017 in Savannah! It's a good week.