July1, 2012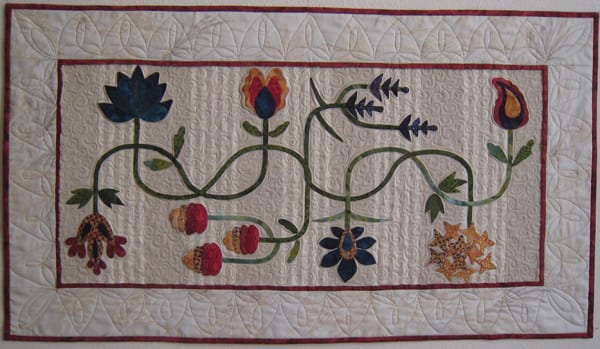 Hey hey hey, the gang's all here!  There are certain types of flowers that I always seem to make and therefore, applique onto anything that holds still. I decided to grab my favorites and make something with them. So without further ado, here's the line up:
Note: This was my first attempt at turned-edge machine applique. I've since gone crazy for it and my stitches are much better. So be kind when you look at the close-ups.
Note's Note: It's always fun to go back and look at where you've started. If you ever feel bad about the way a project is going, go back and look at your first quilt. Mine always makes me smile. And cringe.
Anyway, back to the flowers. They're a little bit different, a little bit quirky. Some of them, like the Wisteria Vine and Firecracker Plant, stem from the years I spent in England when I was little. Mostly, they're the plants that I wish I could grow but have no room for in my third floor walk up apartment. So I put them on a table runner, where there's space for my Perennials.