June10, 2017
While at Quilt Market a couple of weeks ago, I was determined to wear my pins with every outfit. They're new and shiny and they make me happy. Why not wear them all? But the questions I got over and over were, "How did you find quilt ones? Where did you get them?!" For most of my funky pins at Market, the answer was Etsy, but I had a bit more hunting to do for my quilt pins. This is what I've learned.
Firstly, I'm referring to enamel pins. They're considered jewelry-quality and a little fancier than the normal little round plastic buttons. Which I also collect, but I digress…There are two types of enamel pins, soft enamel and hard enamel. In a soft enamel pin, the colored parts don't fill all the way to the top of the dividers so the pin isn't mirror smooth. This can be fun and add another textural element to your pin. In a hard enamel pin, the surface is smooth and shiny. Who doesn't love shiny? The pin on top is soft enamel. See the little shadows in the hands? It really makes the thread and yarn textures pop. The pin on the bottom is hard enamel.
Second, more and more quilt-y type pins are popping up. There are places like Handmade Rebellion that started with making quilt and craft themed t-shirts and hoodies to snuggle in, and have expanded to include fun pins. There's also pattern designers, like the Eye Candy Quilters, or the garment pattern people over at Colette Patterns that have some really cute sewing pins. The little rotary cutter is to celebrate the new Fussy Cut Sampler book. You can also check with fabric designers themselves. The blue sort of comet-bunny below is from Luna Sol, a fabric designer for Windham. I know that Alison Glass has a pin coming out, and Tula Pink has had them in the past.
So if there's someone you like, there's a decent chance you can have a little wearable piece of their art.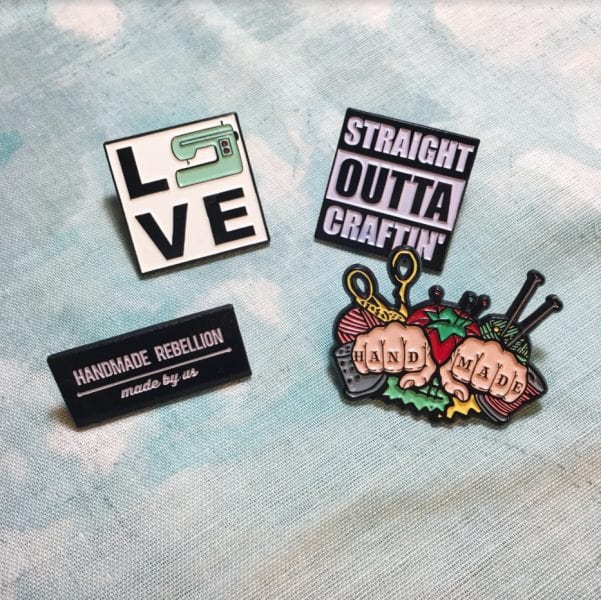 And as a bonus to get your pin collection started, and because I'm always an enabler, Handmade Rebellion is offering 20% off through August 15th. Just use this code and click here:
iloveeyecandy
I got them all because I couldn't decide. Thats how I wind up with bolts of fabric, too. Happy pin hunting!
SaveSave
SaveSave