September11, 2016
Ta daaa! A smorgasblock quilt top complete with borders! And the picture taken in natural sunlight, not the icky fluorescent light of my basement.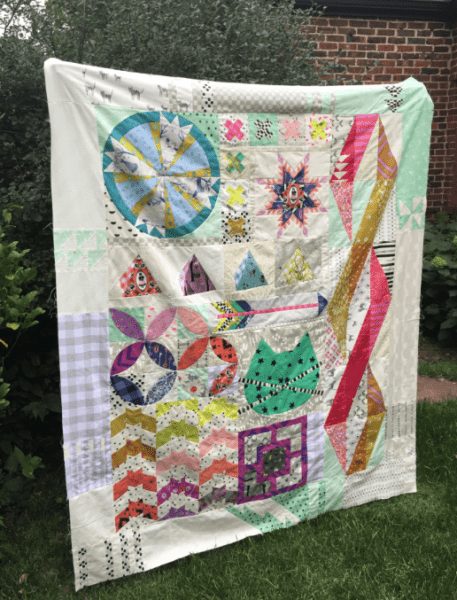 I feel kind of guilty making you wait a whole week for borders, because they are so easy. All you need to do is to stitch chunks of fabric together that are cut 6½" by varying lengths until you get a strip that is 228½" long. Use leftover pieces, flying geese, whatever you have on hand will work. You can have a lot of fun and play with how the fabrics come together, too. Who said that they had to be at a right angle? No one. Make it yours, as long as your strip is 228½" inches.
To make measuring easier, I used my 24″ ruler and pinned every 24″ on my strip. After I got to 10 pins, I only needed to measure another 4½" inches.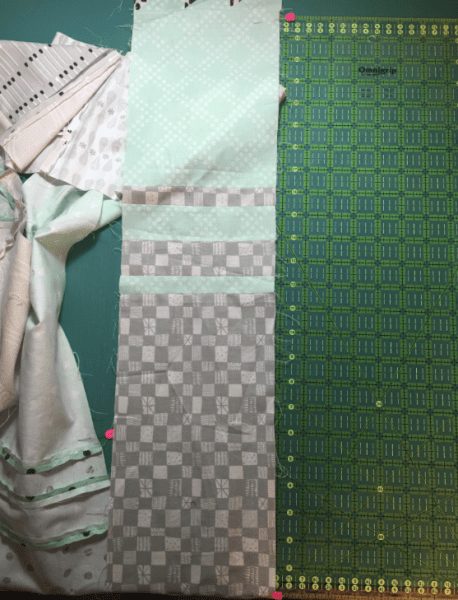 Now comes the fun part. Stitch the two short ends together of your super-strip to make a loop. Pick a random place in the middle of a chunk, not along a seam, and cut across the 6½". Cut your border pieces in this order:
57½"
56½"
57½"
56½", your last strip should magically be the correct length, but measure it out just to be safe
The fun thing about doing your borders this way is that you get a cool effect of fabric rounding the corners without having to do all the math. The less-fun thing about this method is if you're into control, like I am, it takes a leap of faith to make that cut and keep cutting those border strips without planning where every single chunk of fabric will go. Then again, it took a leap of faith to start your smorgasblocks without any idea of how it would work out. I didn't want the mystery to end, so your quilt has one last surprise in store for you.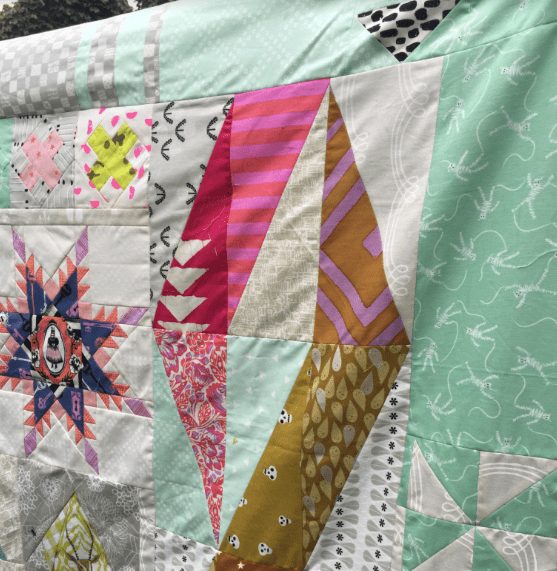 You will need 3½ yards of backing if your fabric is non-directional. If it is directional, you will need 4⅛ yard of backing. And now, I must get thee to a quiltery! Aka, send this dude to the long-armer so she can work her magic.
Not to get all mushy, but thank you to everyone who's joined in and stitched with me. I enjoyed your enthusiasm and willingness to try new blocks and techniques. And just like I said at the beginning, for those blocks and techniques you hate you never have to do them again! Hopefully you've found some keepers as well. Thank you again. Your quilts, like you, are beautiful.