September21, 2011
Do you ever feel that when certain movies come on TV that it's a sign from the cable gods to start quilting? That's how this quilt started. The wonderful Pixar movie Ice Age was on TV one night, and I took it as a sign to start something. I had no pattern, no directions, I didn't even know what fabric to start with, so I went to the stash. I took this beautiful Japanese fabric as a jumping off point, but the problem was that I only had an eighth of a yard (I know! Crazy talk.).
I pulled out some hand dyeds and some batiks, and started to build around the Japanese fabric, adding lime, turquoise, and a range of gold tones. I ended up with 12 blocks.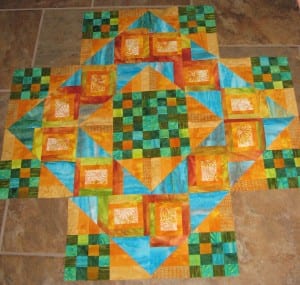 I made more checkerboard/16 patches for the corners, and now comes the fun part: I started foiling the top! Foiling is really very simple and you can buy the foil in rolls from your local art supply shop. To foil, first draw your design on the paper side of a light weight fusible. My leaf shape also had circular cut outs within the main leaf, so make sure that all parts, not just the outline, are cut out. Position your fusible shape on your quilt top. Using a hot iron, fuse down. Peel off your paper and place your foil on top of the fused area. Using a pressing cloth on top of the foil, use a hot iron to adhere the foil onto your quilt top. Voila! Shiny leafy quilt!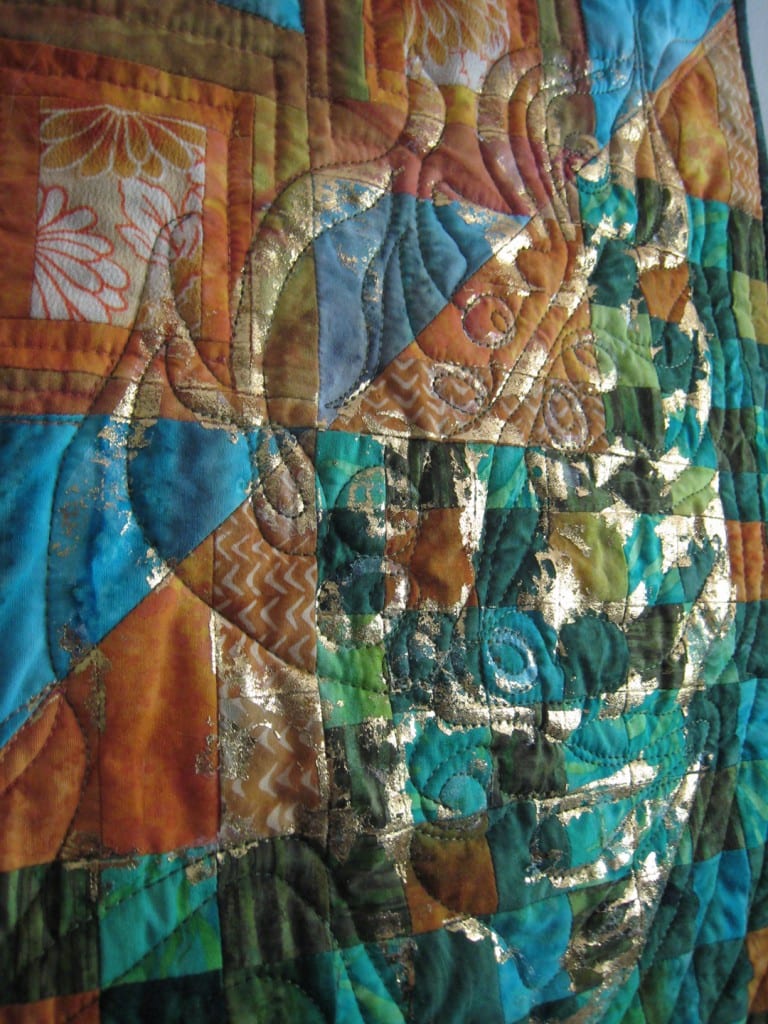 I did some custom quilting echoing the foiled leaf pattern and then Diego was done.
Such a good quilt for a saber-tooth tiger, don't you think?