February1, 2016
One of the things that I think makes Kismet fun is that the block uses triangles that are different than your average half square triangle units, but most of the time that also means that it takes a little bit of thought for making those triangles. Hopefully this will make it easy for you; there are a couple of options for making your pointy units.
First of all, good old-fashioned templates out of template plastic. However, if you have a digital pattern and you printed it yourself, make sure that your print settings do not say scale to page! Your templates will get warped and your blocks won't go together nearly as smoothly. Once you have the hard copy of your pattern, all you have to do is trace the shapes provided on template plastic.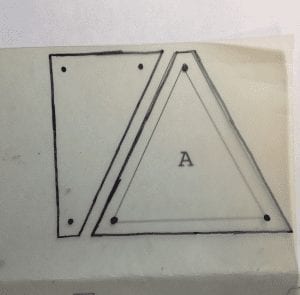 I like to put dots where the seam intersections are. It helps with fussy cutting if you're feeling particularly adventurous.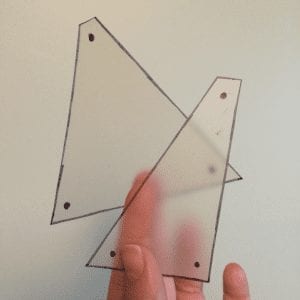 Then, to cut out using your templates, lay your ruler on top and rotary cut the angle, shown below. I've included pictures for lefty-quilters (on the left) and righty-quilters (right).
The downside to templates is that you slowly shave pieces off, so you'll have to make it a couple of times so your pieces don't get too warped. The upside is that it's cheap. Template plastic, even if you buy the no-melt mylar, is less than $2.00. You can think even more economically and use cardboard from cereal boxes, but you won't have fussy cutting abilities or be able to see through your template.
Which brings us to the next couple of options. I'd like to point out that I am not a gadget-girl. I tend to break things and the ones that are supposed to be super simple I end up breaking. However, a girl can always use another ruler. I know of a couple that would work for making the pointy units of Kismet. The first, and Brenda of Eye Candy Quilts' favorite, is the Deb Tucker V Block Ruler.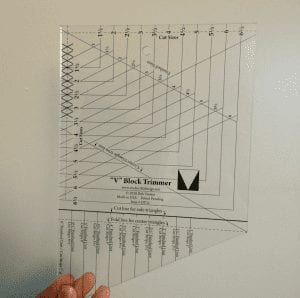 Deb's website is really nice and thorough and she even has a video explaining how to use her ruler.
But my favorite all-time-favorite ruler to make those pointy units is the Tri-Recs ruler from EZ Quilting.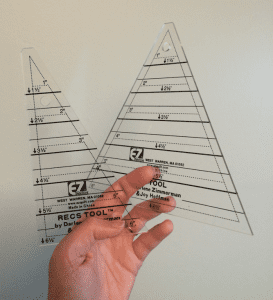 The Tri-Recs is a set; you have one ruler to make your triangle and one ruler to make your background. You don't have a bunch of lines you have to read to figure out which angle is the right one. You cut your strips to the width you want, lay your ruler down, and flip flop it back and forth while you cut the fabric. Simply, easy, me-proof gadget.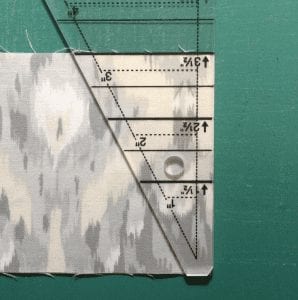 The other nifty thing about the Tri-Recs is that the Recs ruler, the background skinny guy, has that notch cut out at the top. This makes sewing your pieces together much easier.
With right sides together and the blunt end of the triangle towards the bottom, match the notch with the bottom edge. This will ensure that your piece isn't too far up or down your main triangle to make a more accurate pointy unit.
Note that because that notch is there that the finished unit has truncated corners. It's ok! It's supposed to look like that. It will be in the seam and will give you less bulk overall.
And if you run into this problem where it looks like your background piece is too long for your triangle? It's because you stitched your background piece to the bottom of your triangle…which I totally did just to show you and definitely didn't happen because I got too involved in what was on the TV…
And if you're keeping up with the quilt-along part (go you!) your goal this week is to make 11 original Kismet blocks or 4 Fierce Kismet blocks. You can do it!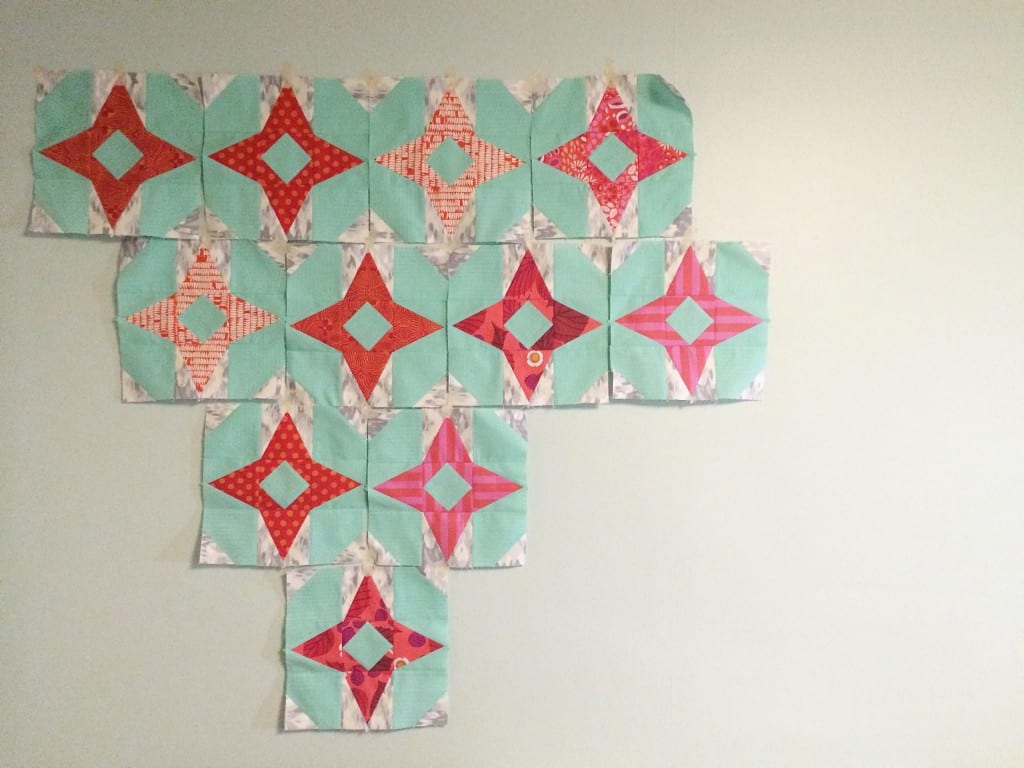 But like I said before, there are no quilt police. Have fun. Make it yours. Use the #kismetqal and tag me @eyecandyquilts on Instagram so I can see your beautiful quilt!  And break!