July8, 2020
Today we're talking about rulers with Stitchaway Camp Counselor Carolina Moore. You'll be happy to know that Anneliese didn't mess up technology this time  (like she did with her interview with Lillyella here), so it's not edited for time or content.

This is pure, unfiltered, quilting knowledge. Let's get to it, Campers!
So let's talk rulers. How did you get started playing with all the rulers?
Well… I'm a quilter. And it is part of the quilter code to love rulers, right? It is up there with "never finish a project without starting at least two new ones" and "you don't need to have a project in mind to buy the fabric."
It's true. It's the law.
Seriously though…
In my early 30s, I worked in a quilt shop. I ran the marketing and special events. And one of the big annual events for most shops is the shop hop. Most shops will try to demo something fun during shop hops. Shop hops were all-women-on-deck events. We needed someone to demo the ruler we were showing. And so it fell to me.
It turns out, I LOVE doing demos. I had so much fun hanging out with the ladies there for the shop hop and teaching them about the awesome ruler! So, that was my job the next year at Shop Hop as well!
Fun! I love the craziness of the hops. Do you remember what that ruler was you first demoed?
It was the Creative Grids Quick Trim and Circle ruler. I still have it!
And the next year was the fat quarter cutter.
You still share rulers today, right?
I started a new thing this year… the Ruler of the Month. Every month I make video that shows you how to use a different ruler. And, I make a pattern that goes with it. The pattern is free, initially. But when the next month's pattern comes out, the previous pattern goes into my shop for sale. So only the most current pattern is free at any given time.
Ooooo new toys and new patterns. How do you pick a ruler for Ruler of the Month?
So far I have been going with rulers that retail for around $20 (or less). Because building up a ruler collection can get expensive – fast! And I look for rulers that I think would be fun or different. The Strippy Star that is this month's has been among my favorite! Two months ago was the pineapple trim tool which I thought I would love, but it turns out I really hate making pineapple blocks!
I'm working on next month's pattern… I have the beginnings of an idea, but I may scrap it. I'm not sure if I really love it.
That's always hard when you have an idea but it's not quite right. Have you had any rulers that have turned out that way? Or should I say what are some problems you've encountered in your ruler testing?
So…I have not designed any of these rulers. They are all rulers that someone else has come up with. I just play with them. And I like to come up with different things to do with the rulers. So far, all the rulers have been Creative Grids rulers, which are all really well done. I haven't had issues with the rulers. Just issues with my commitment to wanting to square up a pineapple block a bajillionty times.
Bajillionty is the technical term.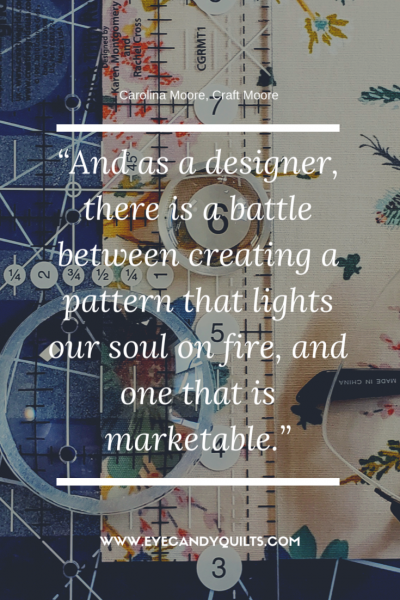 Yes. Almost as technical as eleventy billion.
And as a designer, there is a battle between creating a pattern that lights our soul on fire, and one that is marketable. Sometimes you can do both. But sometimes I have to settle for one or the other. The challenge is when I'm looking at a design that I don't love, and I don't think the quilting world is going to get that excited about either. Then it is time to reimagine the design.
What has been your favorite pattern you've done with a ruler?
The May pattern – The Envy Quilt. I had to re-do the math on that quilt so many times because I was making it from stash fabrics and only had 1/2 yard cuts of most of the fabrics. But it was worth it!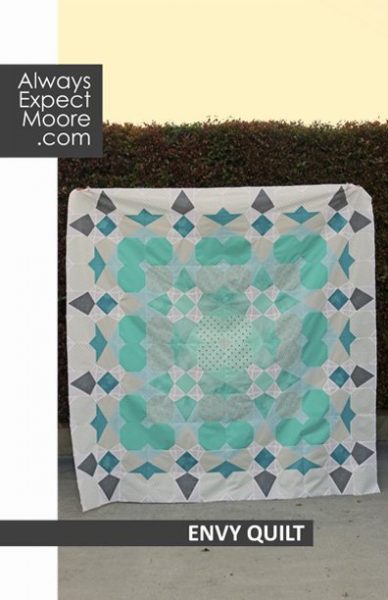 I often joke that my favorite quilt is the one I have an idea for, and want to work on next. My least favorite quilt is the one I am working on now, because it is keeping me from working on that "favorite" quilt.
So pretty! And yes, I'm the same way. I always say that quilts need to go to the long armer so it gives me space to love them again. I need some alone time from my quilts!
Since learning how to FMQ, I tend to want to quilt everything myself. I need to stop that.
No! Do your happy thing!
I have a pile of unquilted tops. There just isn't enough time to do all the things…
So true. Tell me about the Spot on Dot.
Oh! Thanks for asking!! The Spot on Dot is a magnifying lens that you can stick to any ruler using its temporary adhesive. I just turned 40, and my eyesight is not what it used to be!  And, I'm still on the younger end of quilting!
I came up with the Spot on Dot while doing a "product ideation" exercise for my MBA. We were coming up with different product ideas. Not every idea is a winner, but I thought this one could be.
Oh wow!
I had a contact at Checker, and asked her if I could chat with her about a potential new product. We got an NDA in place (non-disclosure agreement … this protects both of us), and then I told her my idea.
She took it from there. Checker did the work of sourcing the materials, getting it manufactured, packaging … all of that.
I got to see a prototype at fall Quiltmarket in Houston, in 2019. In December, I got to see the final version. In February of 2020, it was on store shelves!
That's so exciting!
It is very exciting, and the process was fabulous.
Checker, and my contact Nichole, have been awesome to work with.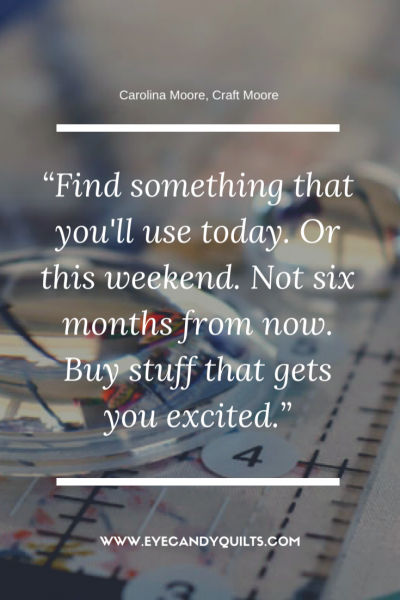 This is not my first time with a fun quilting notion idea. I had worked with another company before, and we never got past prototyping. Not every idea is going to be a winner. And that is okay.
Funny enough, the ruler of the month idea came out of the same brainstorming session that the Spot on Dot came out of!
And, they work really well together. Because, in each of the monthly videos where I show how to use that month's ruler … it is another chance for me to show how handy the Spot on Dot is!
Help those eyeballs! Do you think the Spot on Dot has made cutting faster for you?
It was more about accuracy than speed. But I think it does help with speed because putting the dots on the line I am using also makes it faster for me to see which line I am using. When cutting a bunch of 3″ strips, I don't have to keep counting to 3 to double check each time.
That saves your eyes and your brain. And I bet your accuracy is more consistent even if you start and stop a project. Any tips for someone when they're hunting for a new ruler/toy?
Find something that you'll use today. Or this weekend. Not six months from now. Buy stuff that gets you excited.
Yes! I agree! Buy what makes you happy! Ok,  I want to ask you what I'm calling the Quick Six. The Quick Six are just basic questions for every stitcher I chat with. Ready? Let's go!
Quick Six
What is your favorite color?
Probably teal.
What is your least favorite color?
Builder's Beige.
What is your idea of happiness?
Laying in the hammock after a productive day.
What is your idea of misery?
Yikes. Don't want to go down that rabbit hole!
Where would you like to live?
Close to my friends.
What is your motto?
Do no harm and take no shit.
Thanks again Camp Counselor Carolina Moore for sharing her ruler know-how and super cool Spot on Dot. You can stay up to date with her Ruler of the Month program and the FREE monthly patterns at her website www.alwaysexpectmoore.com.