March5, 2020
Welcome to our first interview! Today we're talking to Nicole Young of Lillyella Stitchery fame. You probably have seen her super cool paper piecing patterns or perhaps her annual Undercover Maker Mat Sewalong. And what's under that Maker Mat? A vintage sewing machine. Nicole, aka Lillyella, has quite the vintage sewing machine collection (obsession? No judgment), so the Eye Candy Quilters picked her brain about all things vintage sewing machine.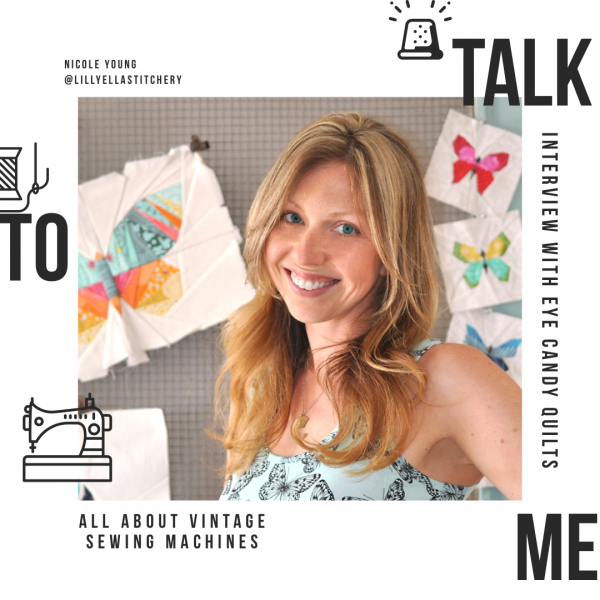 Edited for time, content, and because Anneliese can't work technology right.
Machines!
Machiiiines!
How did you get started with vintage machines?
Um good question. I think it comes from generally liking everything old. Not only the aesthetics, but the functionality. I like everything in my life to be any combination of visually appealing, easy to use, and made to last. I drive a '66 Ford pick up, I cook with old pyrex, I buy used clothes. I grew up with a stove from the 50s that my parents bought at a garage sale for $25. If it still works, I like to use it. I'm not some super green anything, but if I can avoid contributing to this throw away culture in any way, that's a bonus. Also, I'm really frugal. One of the many benefits of vintage machines is that even at a high price, they're usually a steal.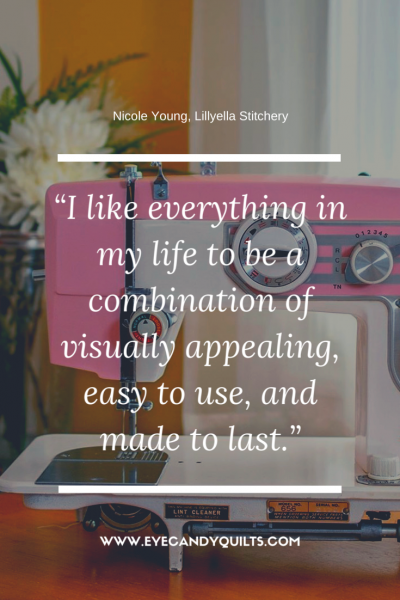 And they're cool!
Right?! I love the ones that look like cars with all the chrome and the dials.
So what would you consider vintage? Anything made before the last 20-25 years?
Well I think anything that has a majority of metal and not plastic parts but my machines are from the 1950s, the 1960s, and the 1970s. And not a featherweight.
Right, a featherweight is a whole different thing.
Right. The featherweights have an aluminum body so they're lighter. Most of my vintage machines are 40-50lbs.
They really are like old cars.
And they're built like tanks! That's what I love. Most can sew anything from silk to multiple layers of leather, usually without any adjustments needed. They're typically all simple metal parts so they are easy to understand, easy to access, simple to fix and maintain and will last forever, with the possible exception of motor issues.
Where do you find them?
Second hand shops, Craig's list, estate sales, flea markets, antique stores, Ebay, Mercari, Facebook Marketplace. I'm a thrift shop junkie and when you find them, they're usually the best deals. People always say I'm so lucky when it comes to thrifting, but it's not luck, it's consistency. Both my husband and I go all the time, to various places, at various times of the day. Don't hesitate to ask a worker if they have any somewhere in the store that you may not see or even in the back. I also usually have the best luck with the smaller, one-off stores rather than "big box" thrifting like Goodwill and the Salvation Army – but never rule those out.
Craig's List is my second favorite. Anytime you can find something locally, it's the best. Shipping is a nightmare, but more on that later. Search your closest Craig's List as well as surrounding areas, even nearby states. A great deal on an amazing machine is the perfect excuse for a road trip!
Facebook Marketplace is the same story. Just be safe and use the buddy system when going on a pickup! Or take your sharpest scissors.
If your family loves you or you have good friends who live elsewhere, ask them to keep an eye out, too.
How do you tell a good machine from something you should leave behind?
This is simple and complicated at the same time.
First, there are machines you can see and fondle in person. Start with a visual inspection. Look for noticeable mechanical damage. This does not include missing paint, scratches, dings etc (unless you don't want that), but things like cracks, broken parts, broken knobs or dials, missing pieces, HEAVY rust, etc. These are often rare and also not always a deal breaker. Check to see if the parts move freely and smoothly – turn the wheel, move the knobs and dials. I carry a variety of screw drivers with me and will often take the top off a machine or remove a side plate to inspect them. This is very simple on most machines and just requires loosening a couple screws. Don't be afraid to get in there. Also, flip the machine over or remove it from the case/base/table so you can see the underside, as most of the controlling mechanics will be visible, as well as the bobbin case and housing.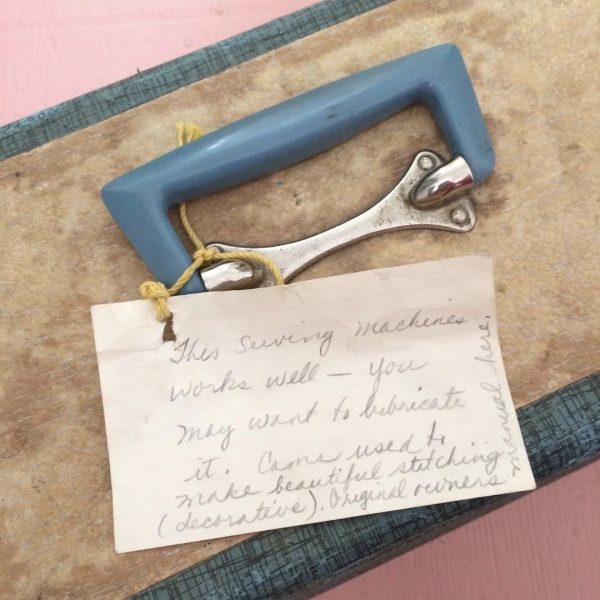 Next, plug the machine in when possible. If you're at a store, they'll always let you do this and if you arrange to look at something from Craig's list or FB marketplace, meet somewhere with power. If the machine powers up and the parts are moving freely, you can try sewing with it. Bring some fabric scraps, thread, bobbins and needles with you. Many old machines will need a new belt (which is a super easy fix), but will cause the needle to not engage when pressing the pedal because there's no tension to run it. Usually you can see the belt and will be able to see this happening. You can manually turn the wheel to make a few stitches and see if the other parts are working. Sometimes old machines can be "seized" up with old grease and parts will be stuck. If nothing is happening, don't give up hope. If the visual inspection shows nothing glaringly obvious, you can probably still get it going again.
If the machine does not power on, you can always replace the motor. This is not too complicated to do yourself, but does require more work and knowledge than simple maintenance. You can also have someone do this for you.
I always tell people to worst-case-scenario a machine when deciding to purchase one. Worst case, it doesn't work, something major is broken that can't be fixed and you're out however much you paid for it. I have never had that happen to me. Stepping down from there – you pay a shop to clean it up and/or fix it for you. The cost for a basic cleaning, tune up, timing rest, etc will run you about $75 – $100. This will often be all you ever need to do to your machine for it to run forever. Any major repairs, missing parts, new motor etc will cost a little more, but typically nothing significant.
Missing parts are hit or miss. You will often see missing bobbin slide plates or bobbin cases – both easy to find and universal among many machines. Missing dials or function controls will be harder. Common brands such as Singer will be more readily available. Off brand machine, badged machines, machines with tons of crazy looking knobs and dials will be the hardest. I've only had one machine with a broken or missing part that I wasn't able to fix or replace.
If you plan to shop for or purchase a vintage machine, find repair shops in your area and talk to them. Find out their capabilities and experience with old machines and feel them out. If you build a relationship with someone, they will often be willing to help advise you on what would be a good purchase. You can ask about the availability of parts for something you are looking at. Remember, you share a common passion! Plus, it's their business. Don't be intimidated to ask questions.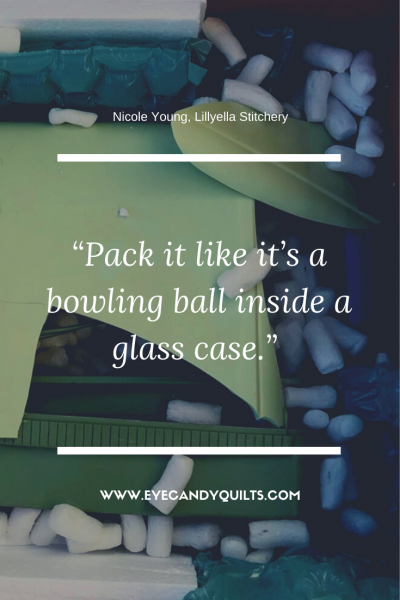 What about the machines that you find online like Ebay? The ones you can't test in person?
You'll typically see two things when shopping online — people who are knowledgeable and people who are completely clueless that show you only the back and call it a sewing machine. Either way, ask questions from the seller and ask for more pictures. They're trying to sell it so they should be willing to help. If they're being really weird, then just bail. There are more fish in the sea. When people are unfamiliar with a sewing machine, they may simply say something like "turns on when plugged in" and that's about it. It's a good start, but ask them more and be super specific. Ask them if the big wheel on the side turns, ask them in the rubber belt looks worn out, ask them if the needle moves up and down. Ask them to open the side or the top, and flip the machine over and send you photos. Ask if the controls move freely or they feel sticky.
You're taking more of a gamble with something you can't touch, but have confidence in the lasting power of vintage manufacturing! I'm definitely more picky about the machines I find online because of this, but also because they often cost more and you have to pay for shipping. Then the biggest problem is the shipping itself. Even when someone thinks they are doing a perfect job of packing the machine, it's never good enough. I've yet to receive a machine that wasn't damaged in some way during shipping. I tell people to think about it like a bowling ball inside of a glass box. Its not impossible to ship a machine, but you need to communicate with the seller and be extremely specific (in a kind way). Ideally, separate a machine from its case for shipping. This often isn't cost effective, but you can start there. If the machine is to be shipped inside its case, you need to specify that the machine must first be completely padded inside the case. Bubble wrap is best for this. Ask them to remove any parts that are easy to remove such as loose spool pins etc and to wrap the foot pedal itself first then tuck it in the throat and wrap the rest of the machine. Securing the machine to the base of the case is important also – they often break loose and bounce around which causes the very heavy machine to break the case and then itself. You can explain these things to the packer so they understand. Tape works well.