March12, 2020
We're chatting with Nicole Young of Lillyella Stitchery about all things vintage sewing machine. Check out our previous post here to get all caught up before diving in.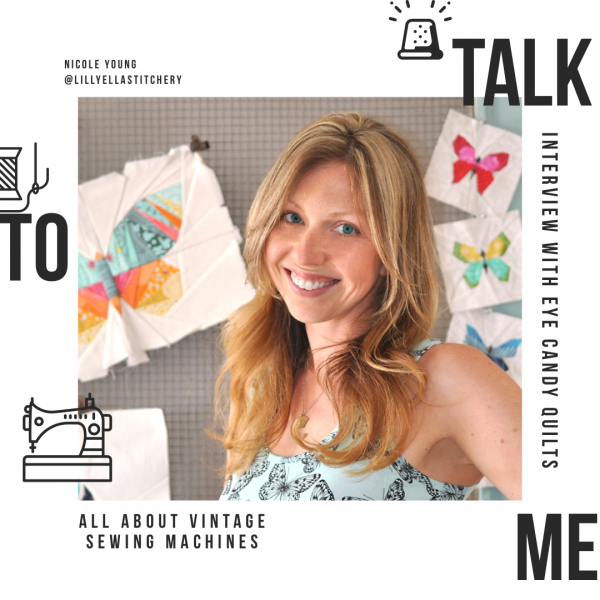 Edited for clarity, content, and because Anneliese can't work technology.
Are there brands or models that you're on the hunt for?
Well I just got the best purple machine!
Stevie!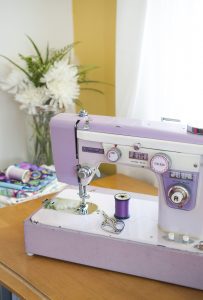 Yeah, Stevie! But my favorite machine is a White brand sewing machine, but if you search for 'White sewing machine' you're going to get a lot of results.
But you can use that to your advantage. Another tip for online shopping is to also include very non specific terms in your searches to try and find the hidden gems and cheaper prices. If you search featherweight, you're going to pay featherweight prices. If you search "small old sewing machine", you may find a very simple and generic listing that others may not.
Generally the people that are selling that found it in an attic and just want to get rid of it. But that also means they don't know if something's wrong or if anything is missing.
Right, I had that looking at a Craigslist listing one time. I went and met the guy about the machine and it was missing the bobbin case. He had no idea.
Exactly. But times like that and if you think you can find the missing part or it's an easy fix, you can always offer them a lower price.
Brands can be hard, not to mention badging. Let's talk about that.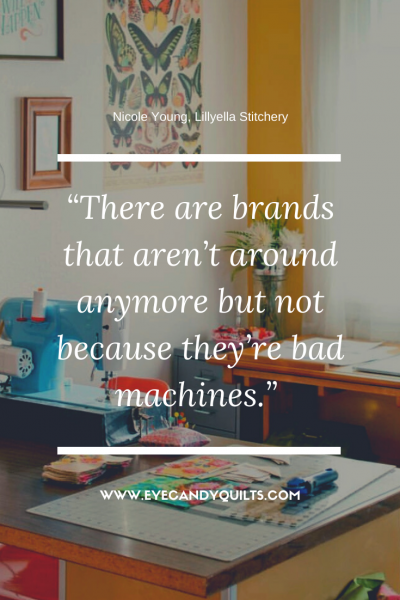 A lot of the vintage machines were made in Japan in the same factories but different companies had contracts to put their names on them. That's why you can find a lot of machines that look the same but have different brand names. Some badged machines I've seen are Dressmaker, Wizard, Fleetwood, Miracle, Imperial, Good Housekeeper. But then there are brands that are just brands that aren't around any more like Morse. And they're not around not because they're bad machines but maybe they weren't the most cost effective or they didn't market right or any number of things.
And one of my machines is a badged machine, so made in Japan, but it was done by a regular sewing machine brand name that's just not around anymore.
It gets confusing. Especially if you're looking for parts or a manual. But sometimes you can do a reverse image search on Google and find something really similar. It may not be the same brand, but it will be the same machine.
What are your must-haves in a vintage machine?
Since I've acquired more and more machines, I'm pickier about what I want. I used to buy for functions I didn't have or really unique features, but now I buy for color or extreme uniqueness. If I see a machine that is similar to something I have, it has to do something cool or I need to leave it behind. The most important features to me are adjustable needle position and feed dog drop. Next would be cams with cool stitches.
Yes! When I tell people that my Necchi with cams from the 60s can do pretty much the same things that one of the new fancy machines can with all the decorative stitches, they looked surprised.
And they won't break! Vintage machines were the peak of technology when they were made. If you have a machine that has cams and you can switch out stitches, you're only limited by the cams you can find. And obviously it's not exactly the same as the computerized machines. But you can still stretch the stitch length and width, again depending on the machine.
Let's talk cams. I'm sure people are saying "I have no clue what that means".
Vintage machines were straight stitch machines. Then they added zig zag machines. Then they invented cams. Cams were a way to create more stitch variations before computer.
I like to compare them to those player pianos where you have that cylinder with the holes in it that tells the piano what to play.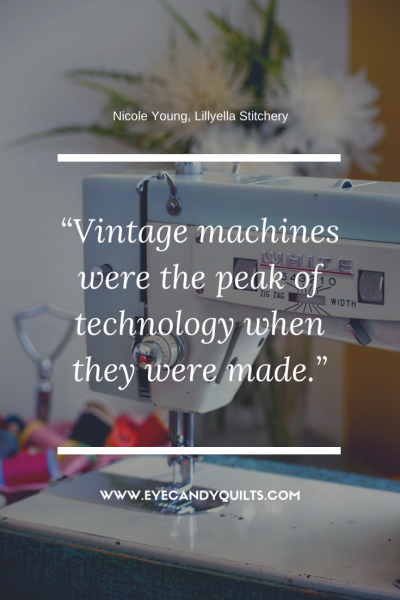 Cams are these little plastic discs with an irregular shaped edge. You load the cam into the top of the machine (most commonly) or have a cam stack inside and the mechanism that was built in to make your zig zag would function in the same way but instead of simply going back and forth each time, it would follow the edge around the cam making the left and right movement of the needle vary creating a different stitch pattern. That's how you could do decorative stitches and sometimes even the buttonhole. But you don't have to have a cam in for the machine to work. It will still function as a straight stitch and often as a zig zag. Typically the zig zag function is not cam driven, but a few machines do require a cam even for the zig zag. It can be hard to find cams for some machines, especially badged one, but not impossible. Never bank on finding them separately and if you see a machine with all the parts like that included, it's an extra special deal.
Any good maintenance tips?
Overall, the cleaning and maintenance of vintage machines is simple, especially after the initial tune up. YouTube is an invaluable resource for these things! I'm certainly not an expert and likely won't do any super in depth tutorials, but I am going to have some blog posts coming up soon covering all aspects of vintage machines more in depth including links, favorite resources, products, etc and also how to clean up and restore plastic cases and parts. After that, I'll get into building new bases, recovering cases and so on!
Do you have any favorites?
My little blue Miracle is a favorite simply because it's unique with it's size, shape, color, shuttle bobbin and uncommon badge. My yellow Kenmore is also a favorite because of the color and styling!
How many is too many?
This definitely depends on who you ask. I remember doing an Instagram poll when I had 17 and I think about 3/4 of the respondents said it wasn't too many but the other 1/4 for sure think I'm a hoarder. I haven't counted since then, but I may be around 25 at this point. People often ask if I use them all and the answer is yes! Does that make it better? They make me happy. I like color, I like matching, I do utilize different functions and sometimes you just need a change – even if minor – to help when you get in a rut, especially when you do this as a business and a hobby. I likely will not keep all of my current machines either. I can't leave behind a $10 gem and now that I'm more confident about fixing them up, I know I can rescue them, foster them, and give them a good new home!
Machine fostering, I love it. Ok I want to ask you what I'm calling the Quick Six. The Quick Six are just basic questions for every stitcher I chat with. Ready? Let's go!
Quick Six: Lillyella Stitchery
What is your favorite color?
Yellow
What is your least favorite color?
Purple
What is your idea of happiness?
Food
What is your idea of misery?
Snoring
Where would you like to live?
Alaska
What is your motto?
Happiness is a moral obligation
Many thanks to Nicole Young of Lillyella Stitchery for sharing her knowledge and enthusiasm for vintage sewing machines. Keep your eyes peeled for her upcoming vintage machine posts and tutorials over at www.lillyella.com.